Projector phones are popular but not that much because its demand is pretty low. It is useful for people who have to give a lot of presentations, or watch movies with their friends, etc. The main aim of this kind of phones is that it gives you a projector that fits in your pocket. Today I am going to tell you about the top 5 best smartphones to use as projectors.
A Smartphone projector is an entirely different thing because it is a whole separate device. We are talking about phones with an inbuilt projector. If you are planning to get a projector smartphone, then you will have to compromise on the size as they can be quite bulky.
So in this post, we are going to show you the 5 best smartphones that you can use as projectors.
Best smartphones with Projectors Facility:
There are not many options to choose from but there are some pretty great picks. If you want the best of the best, then here are the 5 best smartphones to use as projectors.
Moto Z with Moto Mod
Motorola is very well known for making some of the best phones this world has ever seen. In this case, the Moto Z Play or Droid is hands down the best projector phone you can hope to buy. The projector is sold separately as a Moto Mod. Moreover, you can project a screen of upto 70 inches on a wall or a white screen.
Image Source: Motorola
Lenovo SmartCast Laser
This device isn't actually out in the market but is only a concept as of now. It is the world's first smartphone that comes with an integrated focus-free projector. There is a button that you have to press to activate the feature. It will then show you which apps you can use with the device.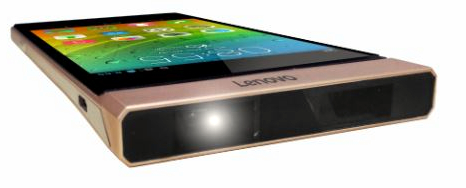 Image Source: FoneArena
Sony Pico MPCLA
Serving as a bonus in this list, the Sony Pico is a mobile projector and not a projector phone. But if you are looking for quality, then you should definitely go for this mobile projector. It is small in size, easy to handle, and very great for professional use. It has a resolution of 1920×720, so you don't have to compromise for the quality. Moreover, it is focus free, so you don't necessarily need a straight surface to project.
Image Source: The Verge
Samsung Galaxy Beam 2
Samsung has its foot set in almost every electronic industry and it makes great devices. The Samsung Galaxy Beam is an affordable projector phone. Though the phone's specifications are not that great, it packs a mean punch with its built-in projector.
Image Source: YouTube
MOVI
The MOVIPhone is easily the best smartphone with a projector that you can get your hands on. It aims to remove the extra bulk in projector smartphones. It has an embedded 720p HD Pico projector. It boasts a Snapdragon 821 chipset, a massive mAH battery, and a lot of other features. Check out its official website for more information.
Image Source: IBTImesUK
These were some of the most famous and best smartphones that you can use as a projector. Also, if you have the big budget, then you can go for the devices such as the Sony Pico smartphone projector.